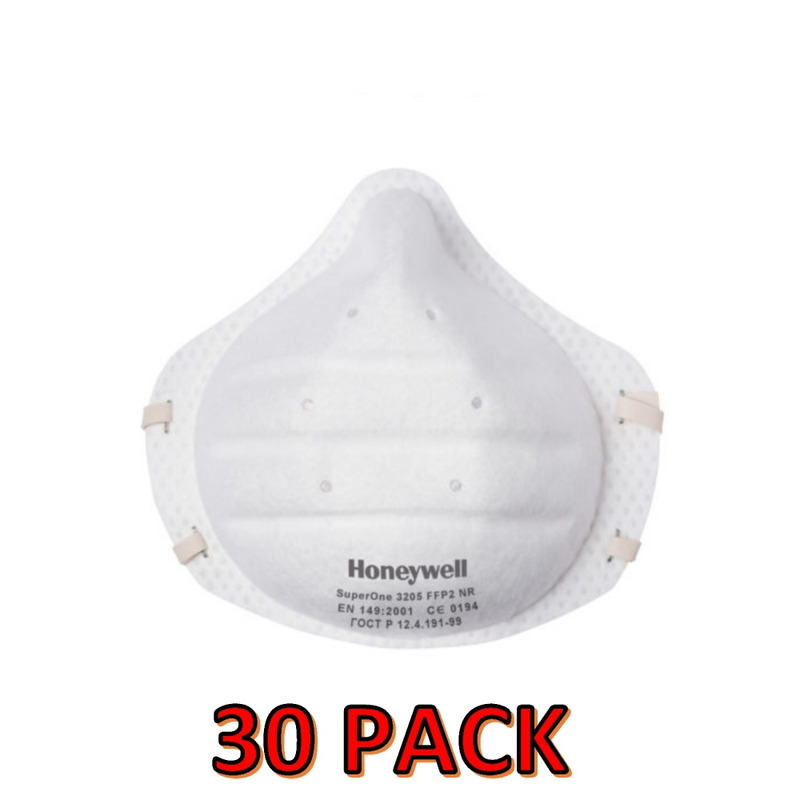 "One-size-fits-all" range of ergonomically designed moulded masks for a very intuitive fit without compromising comfort.

Features:

- Intuitive Mask - Quick and easy to put on
- One-Size fitting all faces
- Self-adjusting nose piece


Product Use
Application: Textile, mining, construction, iron and steel industries, car body preparartion industry, woodworking, agricultural and horticultural activities, food industry,cutting and moulding of metals, etc ... Protects against dusts, mists and fumes containing calcium carbonate, clay, kaolin, cellulose, cotton, flour, ferrous metals, cement, sodium silicate, sulphur, glass fibers and plastics, hardwood, coal, quartz, non ferrous metals, copper, aluminium, barium, titanium, vanadium, chrome, maganese, molybdenum, vegetal and mineral oils, metal-working fluids (this list is non-exhaustive).

Maximum usage level: can be used in atmospheres containing solid and/or liquid aerosols in concentrations up to 12 ( 10 in UK, FIN, D, I, S) x WEL*: FFP2 class (average toxicity). "NR" (Non Reusable) marked, it can be used one single shift (according to EN 149:2001+A1:2009). Certain restrictions or limitations may apply in the case of specific contaminants. Please refer to applicable health and safety standards.
Limitation to use:
This single-use filtering half-mask should NOT be used in the following situations :
- oxygen concentration is less than 17% (oxygen-deficient atmospheres)
- contaminants or their concentrations are unknown or are immediately dangerous to life or health
- contaminants concentrations exceed levels fixed by applicable health and safety standards or 12 ( 10 in UK, FIN, D, I, S) x WEL*
- in the presence of toxic or radio-active contaminants
- in the presence of gases or vapours
- fire fighting.
* WEL : Workplace Exposure Limit.
Honeywell 3205 V1 Non-Valved Disposable SuperOne Filtering FFP2 Half-Mask 30 PACK
STOCK CODE: DMV/30
£

10.99
(INC VAT)
£

9.16
(EX VAT)
FREE DELIVERY ON ORDERS OVER £79
WAYS TO PAY: