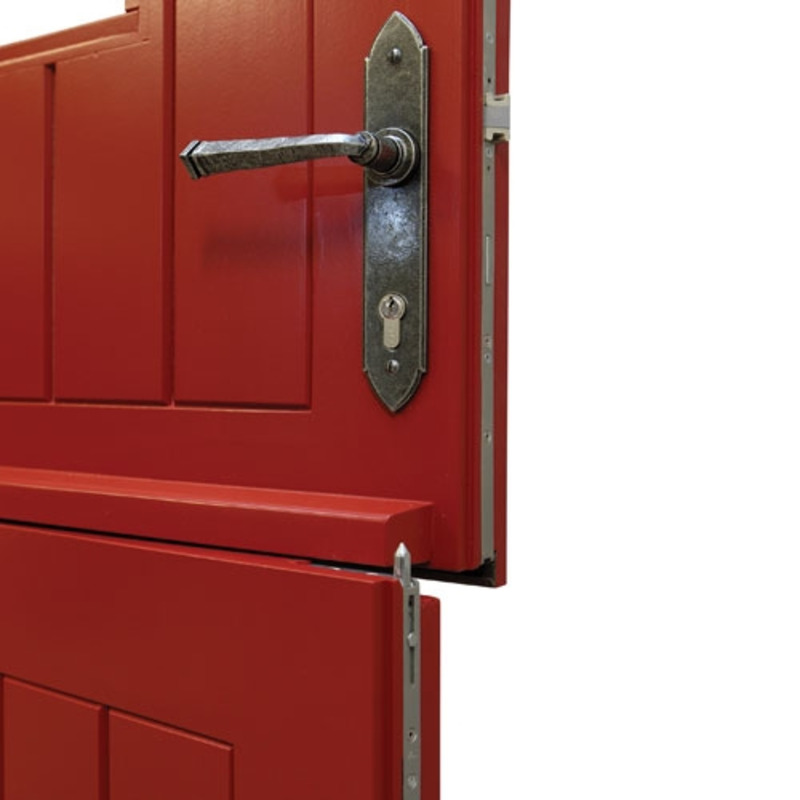 Comprising of two half locks, which each incorporate a main lock case and additional lock case with hooks. Bottom lock case contains a key operated deadbolt. Upper lock case also has a key retractable latch and is thrown with a lever handle.

PAS24
10 Year Guarantee

- 16mm faceplate available in silver finish
- 45mm faceplate (other backsets available as special order)
- Upper lock is thrown with lever handle
- 2 main lock cases for individual door function, toplock with latch, 20mm deadbolt and bottom lock with20mm projecting hookbolt
- 2 Additional hook bolts for additional security andweather sealing
- Non-handed, suits either left or right handed doors
- Bottom lock engages top lock via steel shoot boltallowing the door to open as one unit, preventingdoors from disengaging as with similar products
- True stable door appearance, no additional espaghandles or tilt & turn components required
- Lever handle to top door lock only, bottom lockrequires escutcheon plate and half thumb cylinder if locking internally
(Please note if required for internal and externally locking, you a require a full thumbturn cylinder on the bottom locking section)

Complete set includes following items, please use drop down menu to order:-
-1 x TDKSSD Stable Door Lock
-1 x TDKKS56/44mm 56mm or 44mm Keep Set
-1 x TDKKSST Twin Keep

Don't forget cylinders and handles, please go to our handles and cylinder pages for all the options.
Storm Stable Door
STOCK CODE: TDKSSD
£

141.07
(INC VAT)
£

117.56
(EX VAT)
FREE DELIVERY ON ORDERS OVER £79
WAYS TO PAY: